---
School Emergency & Earthquake Supply Checklist
When a major earthquake happens during school hours your Emergency Response Teams should be able to execute your emergency plan. By providing your staff with training and supplies, your disaster teams will be able to carry out the school emergency plan.
The items below will be able to support your Emergency Response Team in executing your school's disaster response plan. To get the exact quantity of supply needed for your school, you can use our free school calculator.
 CLICK HERE TO USE OUR SCHOOL EMERGENCY SUPPLY CALCULATOR
Incident Command Post
Product recommendation: Incident Command Post Kit and Triage Package to set up your incident command post.
FOR THE INCIDENT COMMANDER
Contents: Command Post Barricade Tape, Public Information Barricade Tape, Staging Area Barricade Tape, 2-Commander Walkie-Talkies, Bull Horn, FM-Weather-Shortwave Radio with Light, National Incident Management System (NIMS) Guide, Incident Command and Triage Book
FOR THE 4 GROUP SUPERVISORS
Contents: (Medical, Search & Rescue, Assembly, Family Reunification): 4-Vests, 4-Ponchos, 4-Clipboards, 4-Golf Pencils, 4-Light Sticks
FOR THE TRIAGE TEAM
4-Triage Tarps , 40-pages of Triage Forms for patient evaluation, body identification, injury assessment with triage instructions.
Search & Rescue Team
Product recommendation: Search & Rescue Team Leader Bag (1 for each team leader) and Search & Rescue Individual Safety Gear (1 for each member).
FOR THE SEARCH & RESCUE TEAM LEADER
Contents: Hard hat, goggles, vest, dust masks, leather gloves, knee pads, marker, pry bar, door wedges, 4 in 1 utility shut off, window hammer, duct tape, search rope, flashlight, light sticks, hazard tape, drinking water.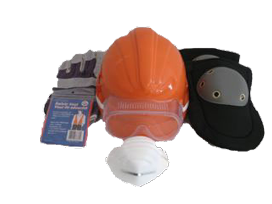 FOR THE SEARCH & RESCUE TEAM MEMBER
Contents: Hard hat, Goggles, Dust Masks, Vest, Gloves and Knee Pads.
Evacu-aid Stretcher - This Evacu-Aid Stretcher is a practical choice for schools and businesses. It weighs in at only 2 lbs. and is made from a strong and durable material which is perfect for transporting victims.
Medical Team
Product Recommendation: Disaster First Aid Kit  - 1 for every 150 people in your school population.Triage Tags and Triage Tarps (or Incident Command Post Kit with Triage Package)
FOR THE FIRST AID TEAM
Contents: 20"shoulder bag, 15 trauma dressings, 100 4×4 gauze pads, 12 triangular dressings, 12 rolls of gauze, 4 leg splints, 5 arm splints, 1 bottle burn gel, 5 cold packs, 20 sterile water packs, 5 rolls of first aid tape, 1 roll of duct tape, 10 emergency thermal blankets, 2 paramedic scissors, 2 tweezers, 1 box of 100 vinyl gloves, 100 antiseptic wipes, 100 antimicrobial wipes, 100 band-aids, 2 first aid guides.
FOR THE TRIAGE TEAM
TRIAGE TAGS, 4 COLORS TRIAGE TARPS
WHOLE SCHOOL
Product Recommendation: Water Barrel Package - 55 gallon for every 50 persons in your school population. Emergency Food Pack - 1 for each person. Sanitation Kit - 1 for every 100 persons.
FOR WATER SUPPLY
55 Gallon Water Barrel, Water Preserver Concentrate, Water Hand Pump, and a Bung Wrench
FOR FOOD
Box includes 40 Food Bars. Each food bar provides 3 days worth of food per person.
FOR TOILET FACILITIES
A portable privacy tent and a portable toilet.