---
A realistic and practical solution for earthquakes and mass-casualty disasters.
This Light Rescue Cribbing Set is used to safely rescue trapped victims under heavy non-structural items (i.e. filing cabinets, pianos, coke machine, etc.).
The national standard for rescue taught by FEMA CERT (community emergency response teams) classes is the use of Cribbing. In a real disaster, when trying to lift a heavy object using your own force you will put yourself and the victim at greater risk (even if you have multiple people on your team). By using cribbing techniques you will have a mechanical advantage to adjust the height of the lift to extricate the victim from under the object.
1 Rescue Cribbing Set is recommended for every site.
Training on using Cribbing is essential for your Search & Rescue Team. See our Disaster Survival Skills Training. You may also watch the video below to see how it works.
Make sure you have the ideal team structure for your school/site. Use our Disaster Preparedness Calculator to determine the right teams, sub-teams, and team members for your Emergency Response Team Structure.
FEMA suggests Rescue Cribbing for CERT teams and civilians for disaster response. Our custom rescue cribbing kit is for Community Emergency Response Teams and School Disaster Response teams to rescue victims trapped in light urban search and rescue environments. We have developed a ''Light Cribbing Rescue Package'' to stabilize heavy non-structural items (i.e. filing cabinets, pianos, coke machine, etc.) 
Use of Rescue Cribbing
When attempting to rescue victims trapped under heavy non-structural items, you should always use rescue cribbing for stabilizing the outside corners while lifting the object from the middle using the fulcrum and lever provided with this set. This mechanical advantage lifting technique keeps everyone safe. Always use Cribbing during lifting for victim and rescuer safety.
The Cribbing set consists of routered and sanded wood in the form of a 4' lever, fulcrum, 28 12" 2x4's and 4 12" wedges.
Cribbing is essential in many CERT extrication operations. Its most common use is to stabilize objects while lifting . Wood selected for cribbing should be solid, straight and free of major flaws. Cribbing surfaces should be free of any paint or finish because this can make the wood slippery, especially when it is wet.
Consider training in victim extrication using cribbing such as our "Disaster Survival Skills" workshops which include light urban search & rescue techniques.
Freeing Entrapped Victims using Rescue Cribbing
After removing all non-trapped victims first, use cribbing with lever and fulcrum to remove all heavy non-structural items (i.e. filing cabinet, piano, vending machine, etc) entrapping victims. Work together as a team.
Here's a quick video of how it's done.
Cribbing Rescue Training
This video was from one of my Disaster Survival Skills workshop learning to rescue strategies including a trapped victim cribbing exercise.
Cribbing
Begin by building a wide base of 2x4's stacked to create a box as shown in the illustration on the right.
Place cribbing under any corner of the object not touching the ground.
Use wedges wherever 2x4's won't fit.
Regardless of the lifting device, always use cribbing for stability and safety in case of failure of the lifting device.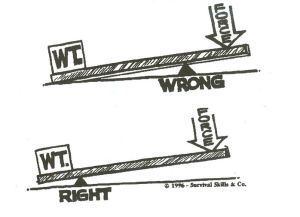 Lifting Technique 
Place fulcrum and lever at the center of the object while cribbing the corners.
Push lever down using mechanical advantage, not your back.
Continue to build cribbing as an object is being lifted. "Lift an inch, crib an inch".
To prevent the object from slipping back while lifting, place a foot at the rear of the object to serve as a pivot.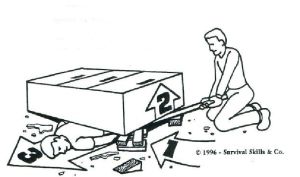 Victim Removal 
Clear debris from victim's path.
Remove victim in a straight line.
Never roll debris off victim.
Do not throw debris.
Send us an email via web-form and we will get back to you within 24 hours.
If you have concerns about your order, the fastest way to reach us via phone call. 
Our tall-free number is +1-760-628-5987, you can call us during business hours (Mon. – Fri. 8:00 – 5:00).
Mailing Address:
Disaster Survival Skills, P.O. Box 10008 Palm Desert CA 92255