---
Our set of 4 Triage tarps new low price is only $199.95.  They come in 4 colors of Red (immediate), Yellow (delayed), Green (minor) and Black (deceased). They are 16'x 20' in size to provide organization to your triage and disaster first aid areas. Once these Triage Tarps are on the ground, there is no confusion as to where the Triage and Disaster First Aid area is or what category of victims go where. Organization will be the key to your success in managing the chaos. 
Use of Triage Tarps
Triage skills are a great asset in the event of a mass casualty such as an earthquake, shooting, plane or rail accidents. In the field following a disaster, injuries and the number of patients may appear overwhelming. Triage skills along with Triage Tags and Triage Tarps will enable you to quickly sort and prioritize the victims. You will be evaluating how the injuries impact the victims conditions. There are only 3 conditions to evaluate in Triage. You will assess their Breathing, Bleeding and Shock. This makes Triage simple and rapid so you can help the maximum number of victims quickly. Don't forget to use
Triage Tags
. This is another tool that only makes your job easier and more efficient and professional.
When setting up your Triage area remember to leave 15 feet between your Immediate and Delayed triage tarps for organization and room to work. It is a good idea to place all your disaster first aid supplies in between the immediate and delayed and minor triage tarps to create a natural barrier and easy access by both first aid teams to the medical supplies.
Also remember to place your triage victims in rows. One row for each first aid team member. Place triage victims in a Head to Toe formation. This will reduce anxiety in the first aid area, reduce the noise level, and most importantly if a triage victim throws up, it will end up at the foot of his neighbor and not on his head.
How to do Triage
For a more understandable format, I've made this very simple Triage Flowchart poster that you can print, then laminate and store in your Disaster Kits.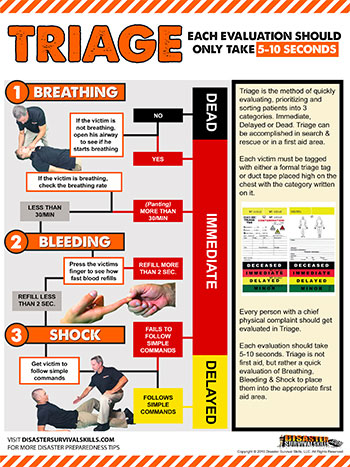 You can also download all posters here
Guide For Schools
While a Triage Flowchart is one vital part of your disaster response plan, there are other skills that your emergency team should know, like evacuation, types of equipment needed, team's assignments, light urban search & rescue methods, disaster first aid, firefighting and utilities. To find out more about these step by step rescue guides, get your Emergency Response Team Members a Disaster Response Guide For School booklet.
Send us an email via web-form and we will get back to you within 24 hours.
If you have concerns about your order, the fastest way to reach us via phone call. 
Our tall-free number is +1-760-628-5987, you can call us during business hours (Mon. – Fri. 8:00 – 5:00).
Mailing Address:
Disaster Survival Skills, P.O. Box 10008 Palm Desert CA 92255