---
These 2x31/2 inch START Triage Algorithm Flow cards allow rescuers to quickly evaluate patients by referring to the flow chart on the back of the laminated card. Our chart supports the START triage system and CERT teams. Perfect addition to all emergency and disaster kits. In the event of a mass casualty, there must be a method to rapidly assess the victims to prevent loss of life and improve first aid care to patients. These wallet size cards help Urban Search & Rescue teams, Disaster First Aid and CERT teams.
Training your staff and employees will go a long way to ensure their success in an emergency. Our Disaster Training Workshops includes Triage training as one of the modules available.
For a more understandable format, I've made this very simple Triage Flowchart poster that you can print and put in your Disaster Survival Kits.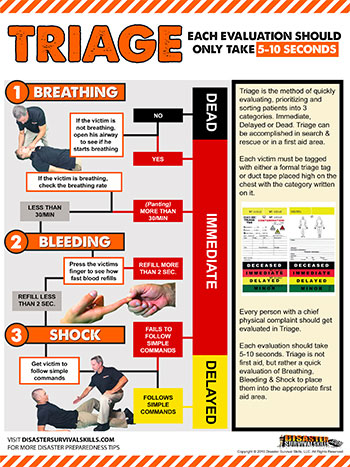 You can also download all posters here
Disaster Response Guide For Schools
While a Triage Flowchart is one vital part of your disaster response plan, there are other skills that your emergency team should know, like evacuation, types of equipment needed, team's assignments, light urban search & rescue methods, disaster first aid, firefighting and utilities. To find out more about these step by step rescue guides, get your Emergency Response Team Members a Disaster Response Guide For School booklet.
Send us an email via web-form and we will get back to you within 24 hours.
If you have concerns about your order, the fastest way to reach us via phone call. 
Our tall-free number is +1-760-628-5987, you can call us during business hours (Mon. – Fri. 8:00 – 5:00).
Mailing Address:
Disaster Survival Skills, P.O. Box 10008 Palm Desert CA 92255