Preparing for the Big One could apply to folks across this country. Since every state has had an earthquake of some size, you shouldn't get too comfortable just because you don't live in California. In fact, some states have more earthquakes and some states even have a larger threat than my home state of California.  If you visit http://earthquaketrack.com/v/norcal/recent there are earthquakes happening everyday in the United States. Alaska has the most earthquakes yearly. The Pacific Northwest which includes Oregon, Washington and even British Columbia has a much larger threat or "Big One" as everyone likes to call it than California. Their 9.0 on the Richter Scale would be 30 times stronger than California's earthquake on the San Andreas Fault. The country as a whole has been busy when it comes to earthquakes, just this year the U.S. has had over 2,700 earthquakes registering a magnitude of 2.5 or greater. Even stranger is the fact that Oklahoma has had more earthquakes this year than California, which sits on the Pacific Plate.
In our previous blog post, we discussed how to build your homes emergency earthquake kit. Today, I am going to cover how to prepare your home.
Some believe there is nothing you can do to protect your home from a devastating earthquake. I believe there are several important steps you can take to secure your home for the next "Big One" in your neck of the woods.
How strong must an earthquake be to cause damage
Earthquakes begin to cause damage at around 4.0 magnitude on the Richter Scale resulting in broken dishes and knick knacks. Above 5 damage increases and we can begin to see the advantages of our home preparation at work. So let's get started.
Simple tips to prepare your home for an earthquake
First, secure your chimney at the roof with a couple of well-anchored straps.
Skipping this one could leave a large hole in your roof or even pull down part of your outside wall, exposing everyone and everything to the elements.
Or even worse, crush or kill someone when the masonry comes crashing into the home. Also, if your chimney is not secured, it may hurt Santa when he visits you this Christmas. 🙂
Next, secure your Water Heater by strapping and anchoring to studs to prevent falling over.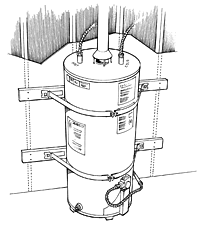 Make sure you strap at both the top and bottom of the tank and replace any solid piping to the tanks with flexible water and gas lines. Failing to do this could result in broken water lines and flooding, gas leak and/or fire. Plus you just lost 40 or more gallons of drinking water.
Your local home improvement store can help with both of the above items.
Next, consider covering your windows with a film, especially any glass over 4'x6′ in size. These size windows can shatter and implode into your room causing life-threatening injuries. Use a safety film designed for earthquakes to protect your family.
After this, I would anchor any heavy furniture that is taller than it is wide. These tend to topple over in earthquakes.
I found my straps at  a Lowes Home Improvement store. They have straps and anchors for most applications.
Again, you can find these straps designed specifically for that job at your home improvement store. Just ask them about earthquake strapping for furniture.
Hope this helps.