After almost 3 decades of responding to car accidents as a professional firefighter, I can tell there is one tool I won't travel without. That tool is the Car Window Breaker. I have seen too many people trapped behind jammed doors and unable to roll down windows. This is due to damage to the doors or even the battery being damaged from the car accident. With air bags exploding and filling the cabin with toxic smoke and dust, breathing becomes a challenge.
A solution to the problem is an emergency car window breaker. This bright orange rescue tool has a tempered steel tip which easily shatters tempered glass windows in your vehicle. One tap and you're now breathing fresh air and on your way to getting out.
It even comes with a seat belt cutter in the event your car seat belt becomes stuck. Just slice through it like butter with the protected razor sharp blade.
So whether you end up trapped from a car accident or you've gone off the road and landed in a lake or river, don't become a victim of your circumstances. Be a survivor. Get your emergency  today.
Your Complete Emergency Car Survival Kit
Make sure that you check out the Emergency Car Survival Kit which includes essential tools that everyone should have in their car. The Emergency Car Survival Kit is the all around disaster kit for the auto. Earthquakes to tornadoes, you are prepared for survival with a 3 day supply of a non-thirst provoking emergency food rations for one person, 36 ounces of 5-year sterile emergency drinking water, dynamo hand squeeze LED flashlight, 5-year light stick that glows for 12 hours, thermal survival blanket and first aid supplies.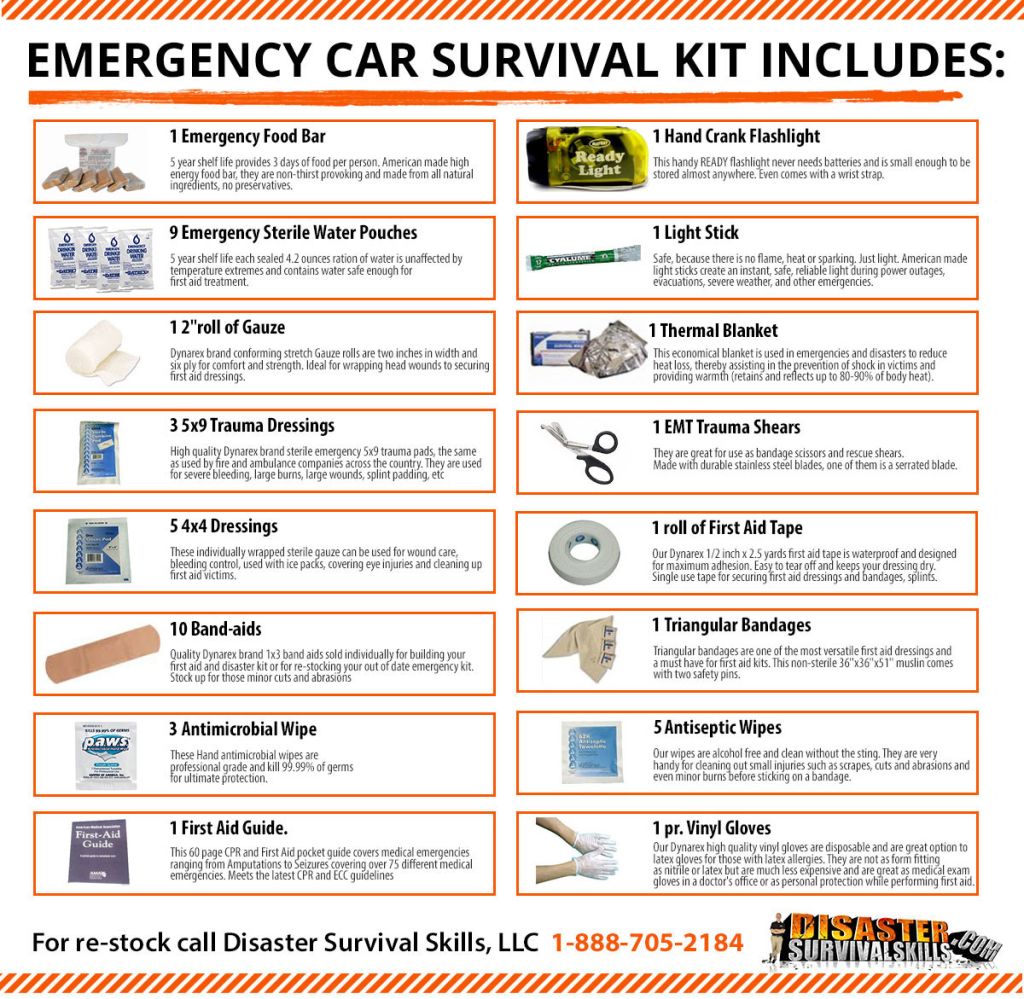 What makes our emergency car survival kits different? American made food and water, American made light sticks, and all of our first aid supplies are not only professional grade quality but medical supplies that you would also see on a fire truck or ambulance. As a retired professional firefighter and first aid instructor, I believe in providing the survival tools to get the job done in a real emergency. Not your typical first aid items because this is not your typical Car Kit. From the trauma dressings to EMT shears, you have the foundation of preparedness. Feel free to add a CPR face shield, Burn Gel Dressing, Splint, etc.