The Great Shake Out earthquake drill is designed to educate family members and organizations to be prepared, survive and recover quickly from big earthquakes – wherever you live, work, or travel.
You can find more details at www.shakeout.org, but here are a few important points. It's taking place nationwide, wherever you are, on October 20th at 10:20 a.m. You can go to the website and register (as an individual, family, school, or business). Once you're registered, all you have to do is "drop, cover, and hold on" at the appointed time!
To join, go to www.shakeout.org and register your family or organization.
Why do you have to register for the Great Shake Out Drill?
You will be counted in the largest earthquake drill ever!
You will be included on lists of who is participating in your area
You will be an example to others to participate and get prepared
You will be updated by email with ShakeOut news and information about earthquakes and preparedness
You will be provided a customized Certificate of Participation to download after the drill (when you register, be sure to list your name as it should appear on the certificate)
Watch this short video about Earthquake Preparedness.

Earthquake preparedness keypoints: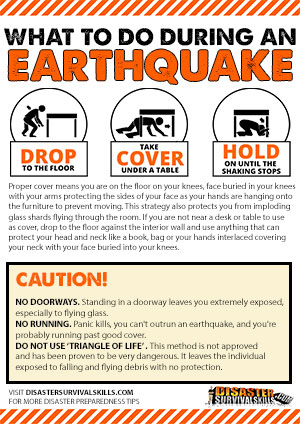 Secure wall decorations, light fixtures, and furniture to avoid injury
Secure heavy items to wall studs with anchors
Keep an

 

emergency kit at home,

 

work and in your vehicle.
Plan with your family on how to get in touch and where to meet.

 

Download FEMA

 

and Local Alert Apps.
Practice "Drop, Cover, and Hold On".

 

Download and print free posters to get more aware.
Learn what do after the shaking stops. Watch the video on

 

what you should right after an earthquake.
Turn on a radio to monitor for important safety information and be prepared for any aftershock.
So before the ground moves, get prepared, make a plan, practice what you know.