In this post, I'm not going to try and scare you or convince you that you need to be prepared. I'm only going to talk to you about what supplies should be in your emergency kit and how to use them. You can print this post and store it in your emergency earthquake kit too.
In case of a mass casualty disaster like an earthquake, you can't just rely on other people to help your family. It's your responsibility to keep your family safe and survive a disaster. You need to be able to provide for them. This means you must prepare in advance.
UPDATE: We've developed a Disaster Preparedness Calculator for Family that generates a list of not only what you need, but how much you need of each item.  The calculator will calculate your Food, Water, Medical, Utilities and more, based on the number of people in your family. Click here to use the calculator
Supplies in Priority Order
Good preparedness begins with knowing your priorites. We have even given you are ideas on what you should do first, as you create your kits and gather supplies. Most folks think that food and water are the first things you should get. But in reality, in time of a disaster, food and water is not your priority.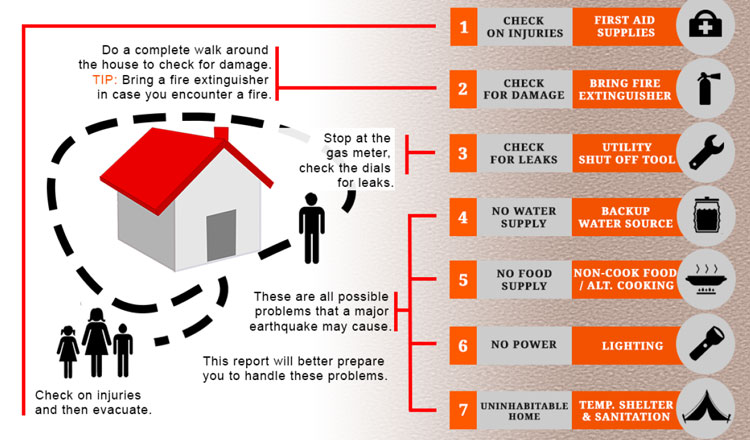 Earthquake Supply Priority #1: First Aid
Severe injuries following a disaster or strong earthquake must be cared for immediately. As an example, a family member could bleed out within 2-3 minutes. You must have trauma dressings on hand in your kits.  Your kit should also be able to handle burns, shock and fractures.
Professionals throughout the country will tell during the time of a disaster, ambulances and emergency responders will be stretched beyond their limits and they won't be able to respond to your emergency right away. This is another reason why having first aid supplies should be your top priority.
And if you think you already have a first aid kit, you might want to take another look at your kit and see if just contains cotton balls, alcohol, and band-aids and a few wipes – if that's the case, you will want to re-think the inventory and stock up for a real medical emergency.
So here's a list for a "REAL" first aid kit that you need in your earthquake kit:
Another addition to all of our first aid kits is a  First Aid Guide booklet. It includes first aid treatment and care for CPR, Bleeding, and Wounds, Head injuries, Nosebleeds, Dental injuries, Chest and Abdominal injuries, Poison, Burns, Hypothermia, Heat-related emergencies, Stroke, Diabetics and a lot more.
To save you time, I've put together a Family Survival Kit that includes first aid supplies, food, water, lights, and utilities. Click here to view the product.
Earthquake Supply Priority #2 & #3: Utility Tool & Fire Extinguisher
The next items on your priority list is still not food and water, but a utility tool to shut off gas and water if there are any leaks. You should do this immediately after checking on the injured after the shaking stops. This step will prevent fires and save property.
You can watch my video on how and when to shut off the gas here.
You should also consider getting a fire extinguisher, since earthquakes may cause gas leaks and gas leaks can lead to fires. So find the best fire extinguisher for you.
Earthquake Supply Priority #4: Water
A major earthquake will cause damage to your underground water system, this will leave you without running water.
In addition to drinking, you will need water for personal needs. This includes hygiene, washing hands, washing dishes, and first aid care, like washing of wounds and burns. Because of the demands for water, you can't have too much water. A 3 day supply (72 hour) is not enough water for your family. We are suggesting storing at least one gallon per person per day for at least 2 weeks. A 55 gallon water is sufficient for a household of four.
Earthquake Supply Priority #5: Food
If you lose power, plan to eat first the food from the refrigerator, then the freezer, then the pantry.  Of course, you are going to want a way to heat or cook your food. So consider alternative methods, A camping stove is probably the easiest way to go.
Emergency food bars are also a good choice because they have a 5-year shelf life, store well in the heat and provide 3 days worth of food per person. They are also non-thirst provoking which is important in an emergency when water is limited. They are great solution for storing food in your car or your desk at work.
Earthquake Supply Priority #6: Lights
No power means no light, tv, airconditioning, washing machine, and all kinds of electrical equipment won't be usual.  You won't even be able to charge your cell phone. You may get a power generator if you like – that would be really awesome, but a source of fuel might be another problem (due to expected panic buying on fuel).
So probably light is your priority since there are flashlights that use different power source.
Earthquake Supply Priority #7: Temporary Shelter and Sanitation
Following a strong earthquake there will be aftershocks, so if you found structural damage in your house it's probably not safe to live in your house until it's clear. Here are some simple rule of thumb for when it your home is unsafe.
If your house has any collapse of the four walls or roof you will have to camp outside.
If your house is leaning at all, be prepared to camp.
If your house has any cracks to run from the ground to the roof line and are over a 1/2 inch in width you will need to move your family outside for safety.
So prepare to camp outside, consider getting a camping tent and sleeping bags for your family.
Another problem due to water interruption and structural damage to your home could be the loss of your bathroom.
Summary
While these supplies all sound overwhelming at first. They are very sensible and realistic. It's really simple when you think about it. Just start with the top priority and do one step at a time.
You can't stop disasters, but you can choose to be a survivor and not a victim.  That's what we are preparing for.
I'm really glad that you are here and you are getting your family prepared. I just hope that you take action and get these supplies. It will make you more comfortable and less worried knowing that you've got the tools and supplies to protect your family in case of an earthquake.