Unlike an earthquake, winter is something you can anticipate and plan for. As the seasons change so must our preparedness. So hopefully, you are reading this post before the winter hits you. Here in sunny southern California we don't see a real winter, but we still have mountains for the weather and temperatures can change quickly. So when there is an event, stay home if there's no need go out, but if you can't avoid driving in winter season, you should get your car ready for winter. In this post, I'll share you few tips for your car preparation for winter.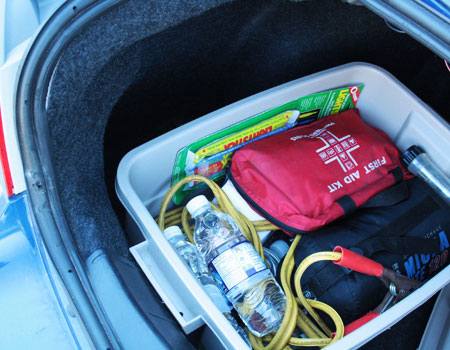 Winter car maintenance tips
Before the weather turns bad, make sure your vehicle is properly serviced and maintained.
Take your car to a mechanic and to have a winter car check, like battery, electrical system, brakes, antifreeze level, thermostat, heater, and defroster.
Make sure your tires have adequate tread. If the treads are worn, replace them. Better yet, exchange them for a set of snow tires. Plan ahead – tire dealers are busiest before and during winter storms.
Check your lights. Make sure the front lights, rear lights, tail lights, and hazard lights are all operational.
Wiper fluid for freezing condition. Often in the winter, the windshield wiper fluid may freeze. Exchange the fluid with one made especially to spray in freezing conditions.
Get winter wiper blades to cut through snow and ice.
Clear your spray nozzles of your windshield-washer system that may get blocked by wax or debris.
Additional pack for your car winter preparedness
A winter accident could leave you stuck on the side of the road. Packing your car with a few more essentials on winter will help keep you safe and ready for whatever conditions pop up on your trip. Sure it takes a few extra moments, but it's better than sorry.
Final tip: Keep the gas tank at least half full throughout the winter. Always bring your mobile phone fully charged and keep a car charger as well. Before you go drive, listen to the radio for announcements about accidents, road closings, and road advisories.
So, hope this helps you in preparing your car this winter.
Share with us what preparation have you started and if you have questions, post them in the comment section below.