Getting a family prepared for an earthquake is certainly easier than a school or a business. With one Family Kit or an Office Disaster kit the majority of the items they need would be covered.
But for Schools (and other businesses) that have a large population, it gets a little more complicated.
Check out our School Earthquake Preparedness Guide and Checklist, I've put together all the important things that matter to a school and help you to create a real world plan and response to an emergency. 
With schools and business you have supplies like food and water for the general population,  but you must also be able to outfit your emergency response teams with search & rescue gear and first aid supplies. These teams need to have the tools and supplies to carry out the plan and be effective rescuers. You have to get the right amount of each item to maximize your budget.
Most disaster planning guides that you'll find online will tell you what general supply items you need, but they certainly don't get specific or say in what quantities.
School earthquake plans involve an emergency response team structure (this is part of the comprehensive report in our school calculator).
Below is an example of an Emergency Response team structure for a school site with a population of 1,000 people (students and staff).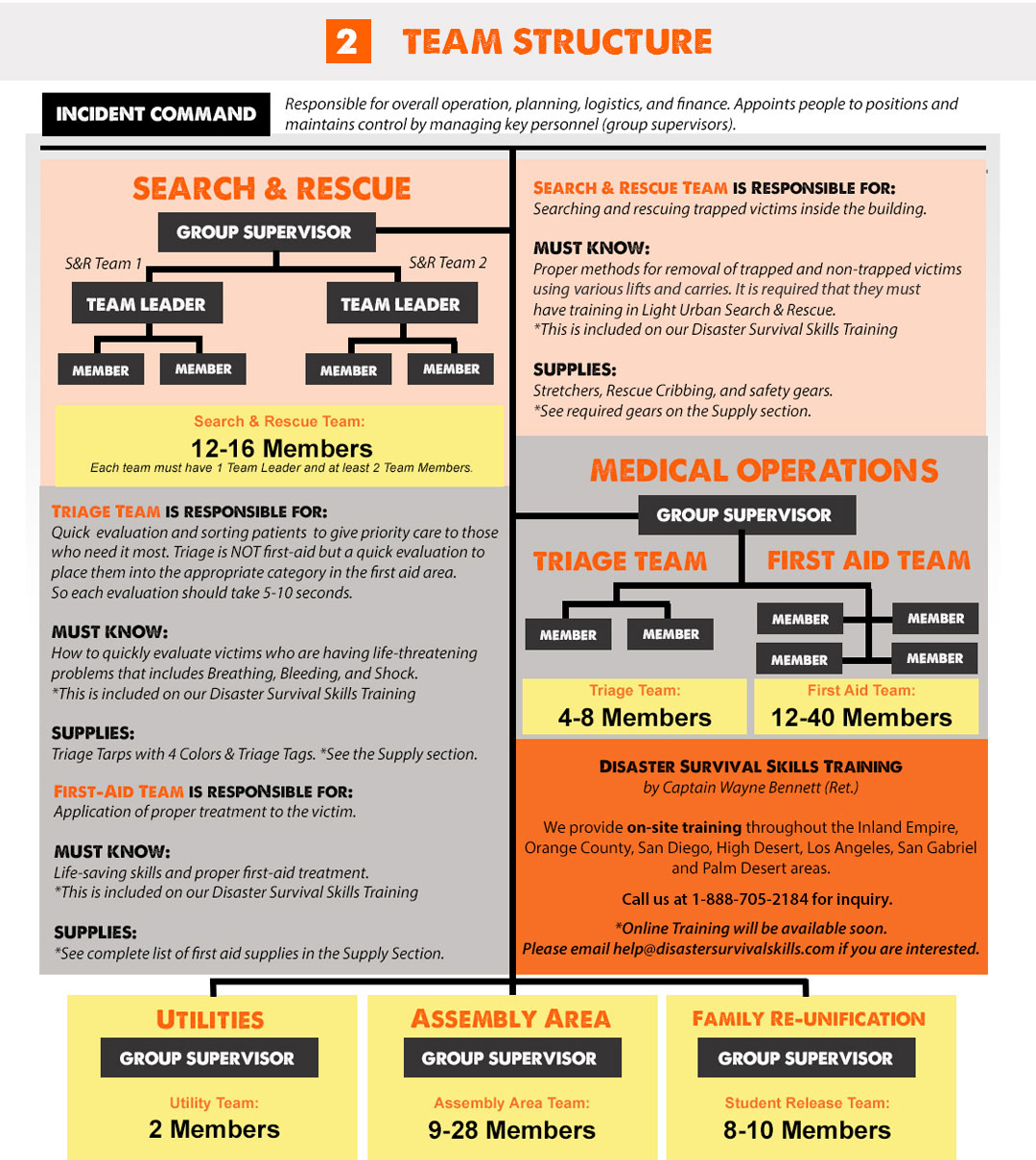 Now with a team structure diagram, you'll get a better idea of how many staff members need supplies.
And to really help you, I've created a Disaster Preparedness Calculator just for Schools.
The calculator gives you an instant result without signing up or registration.
Just enter the number of people on your site, and you will see a list of all the supplies you need and it will also give you the total cost. This will save you a LOT of time.
And if you want to get more detailed information about your preparedness, you can download your custom comprehensive report that covers planning, emergency team structure, and a detailed supply checklist.
Disaster Survival Skills, LLC is owned by Captain Wayne Bennett (Ret.). They're one of the most trusted emergency suppliers and trainers for schools since 1991. You can be sure that these kits and supplies are the best on the market because they are built from real world experience.